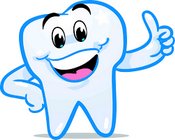 Thumbs up to healthy teeth!
District Health Specialist: Tobi Boyd
Call: (503)738-5591
Email: tboyd@seaside.k12.or.us
Just a quick reminder that the dental sealant forms need to be turned in as soon as possible if you have not done so already. Sealants will be getting placed starting on March 19th – (Next Monday).
The Tooth Taxi is coming to BMS on April 9th -13th & SHE on April 16th -20th. It's a mobile dental office that will be parked in the parking lot at the schools. The Tooth Taxi is a wonderful opportunity to be seen by a dentist if it is not possible to get in to a dental office on a regular basis. It doesn't matter if you have insurance or not. They will do any and all dental work for free. If you have insurance—your insurance will be billed for the services, but you won't have to pay a dime. They offer all comprehensive services, such as cleanings, fillings, and extractions. If you are interested-forms are going out this week. Simply fill it out and bring it into the school office to receive a packet. That packet will need to be filled out in order to take advantage of this amazing opportunity! If you have any questions, or need more information--Call Tobi Boyd (Seaside School Nurse): (503)717-2033.
The Oregon Health Authority Sealant Program is coming to Broadway Middle School. They will be
providing sealants for our 6th & 7th grade students for free. Dental sealants are a dental treatment
intended to prevent tooth decay. The sealants can last up to ten years, depending on the wear and tear. It is a thin, plastic coating painted on the chewing surfaces of the teeth—usually the back teeth to prevent tooth decay. This is a free program to provide a service that is otherwise expensive—out of pocket cost is close to $500. The Providence Healthy Smiles Program is also offering an incentive program for students just for getting their sealant forms turned in to the school. The prizes range from gift cards picked from a raffle to parties for the 6th or 7th grade classes- depending on which class turns in the highest percentage of forms. The sealant applications for the middle school will begin on Monday, March 19th and run through March 21st. Seaside Heights had sealants placed in November and Gearhart Elementary School will have their sealants placed in April.
---
Solo un recordatorio rápido de que los formularios de sellador dental deben entregarse tan pronto como sea posible, si aún no lo ha hecho. Los selladores serán colocados a partir del 19 de marzo - (el próximo lunes).
El Tooth Taxi vendrá a BMS del 9 al 13 de abril y SHE del 16 al 20 de abril. Es una oficina dental móvil que se estacionará en el estacionamiento de las escuelas. El Tooth Taxi es una maravillosa oportunidad para que un dentista lo vea ,si no es posible ingresar a un consultorio dental regularmente. No importa si tienes seguro o no. Harán todo y cualquier trabajo dental gratis. Si tiene un seguro, su seguro recibirá una factura por los servicios, pero no tendrá que pagar un centavo. Ofrecen todos los servicios integrales, como limpiezas, empastes y extracciones. Si está interesado, los formularios saldrán esta semana. Simplemente llénelo y tráigalo a la oficina de la escuela para recibir un paquete. ¡Ese paquete deberá completarse para aprovechar esta increíble oportunidad! Si tiene alguna pregunta o necesita más información--Llamar a Tobi Boyd (enfermera escolar de Seaside): (503) 717-2033.
El Programa Dental de selladores de la Autoridad de Salud de Oregón vendrá a Broadway Middle
School. Proporcionarán sellantes para nuestros estudiantes de 6º y 7º grado de forma gratuita. Los
selladores dentales son un tratamiento dental destinado a prevenir la caries dental. Los selladores
pueden durar hasta diez años, dependiendo del desgaste. Es un recubrimiento delgado de plástico
pintado en las superficies de masticación de los dientes, generalmente los dientes posteriores para
evitar la caries dental. Este es un programa gratuito para proporcionar un servicio que, de otro modo, es
costoso: El costo de su bolsillo es cercano a los $ 500. El Programa Providence Healthy Smiles también
está ofreciendo un programa de incentivos para los estudiantes solo por obtener sus formularios
selladores entregados a la escuela. Recibiran premios van desde tarjetas de regalo recogidas de un
sorteo hasta fiestas para las clases de 6º o 7º grado, dependiendo de qué clase entregue el mayor
porcentaje de formularios. Las solicitudes de sellantes para la escuela intermedia comenzarán el lunes
19 de marzo y finalizarán el 21 de marzo. Seaside Heights tuvo sellaantes colocados en Noviembre y
Gearhart Elementary School tendrá sus selladores colocados en Abril.
---
School Wellness Policies are required by the U.S. Department of Agriculture from school districts receiving federally-funded school meals. These School Wellness Policies set goals for school-based activities that promote healthy eating, daily physical activity, and other wellness behaviors. Individual schools must implement the district policy but can also go above and beyond the policy to improve student health.